Carlos Tevez. Loved by many. Coveted by few.
Monday nights 4-0 victory over Swansea City must have been a weight lifted from the shoulders of Manchester City fans. Not only had a summer of high expectation started brightly, it was done so without want away talisman, Carlos Tevez. So often last season Manchester City had looked devoid of ideas without Carlos Tevez, and the first half against the Swans suggested they may be in for another season of anxiousness. However the introduction of instant hero Kun Aguero and reinvigorated Edin Dzeko, soon laid to rest the still present ghost of Carlos Tevez.
But the question begs, what now for Tevez? After a summer full of transfer speculation and gossip, Tevez still remains at City.
The story of Carlos Tevez is an interesting one. Vastly admired after 2004 Olympics, Tevez was handed the poisoned label of 'the next Maradona'. What happened in the intervening
years was a bit of roller coaster. Tevez moved to Corinthians, where he was idolized, and subsequently hit the headlines at the 2006 World Cup. Then on the 23rd August 2006 Tevez found himself thrust under the lime-light in the metropolis of East London, where he endured a torrid start, only to save West Ham from relegation (idolized again). Following one of the most protracted legal battles (Sheffield United and Warnock & Co.) Tevez moved to Manchester United on a two year loan deal. Tevez helped United to a raft of trophies (again idolized) before a public rift between Ferguson and Tevez (or more likely Tevez's controller in chief -
Kia Joorabchian) which saw Tevez move to their cross City rivals. Again Tevez led (as captain) City to their first top 4 Premier League finish and trophy in 35 years. Not bad for a player who is only 27 - no wonder he hasn't found time to learn English.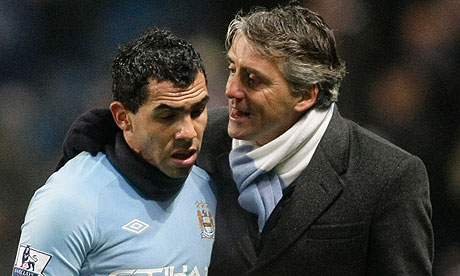 Although many scoffed at the possibility, the first concrete interest in Tevez this summer offered the desired return to South America. However it must be questioned how legitimate the interest from Corinthians was. An often negated fact is Kia Joorabchian (Tevez's agent) is also a highly involved member of the MSI (Media Sport Investment) group who are involved in the ownership of the Brazilian club. It would not be implausible to believe the slippery agent of Carlos Tevez was simply using his connections to at Corinthians to generate 'interest' and subsequently to hurry along potential investors. This would certainly explain why the saga trundled on right up until the Brazilian transfer window shut, and a potential trans-Atlantic transfer descended from improbability to impossibility. Not that this deterred Kia Joorabchian who, in a last ditch attempt to secure a transfer, wheeled out the President of Corinthians to declare their desire to still bring Tevez to the club in the January transfer window.
Alas this tactical move backfired and served only to wind up Tevez, his current employers and headline writers across the footballing world.
Ever since there has been persistent rumours linking Tevez with a move to the Argentina principality of Italy. However much like the suggestion of a move to South America there are far too many questions which cloud the potential of this move. The first begs the question why Inter Milan would splash over £40 Million on a player whose loyalty (not commitment) to his previous few clubs in questionable. Not only are the finances of Serie A perilous at best, Kia Joorabchian talks of a 5 year deal for Tevez, however it does not make financial sense to make such an offer to Tevez considering he has not spent more than 2 years at a single football club since departing Boca Juniors in 2004.
Secondly there appears to be no real logic for Tevez to move to Inter Milan. On footballing terms (despite their differing histories) Manchester City and Inter Milan appear to be on an even keel at the moment (unless you take the pre-season Dublin Super Cup as gospel). Both will be in the Champions League. Both will be challenging for respective domestic cup. Both will be competing for their League Championships.
If not for footballing reasons, then why? The only real advantage would be offering Tevez a slightly better selection of restaurants (as he claims Manchester only has two good restaurants), a hotter climate and significantly a substantial pay-day for his agent/master. Perhaps it is the former Mrs Tevez who is calling the shots, and if so (as previously pointed out by Roy Keane) Sunderland and Newcastle best put the cheque books away for now.
Manchester City have been public about their willingness to sell Tevez (emphasized by the recruitment of Aguero), however it is becoming increasingly conceivable he may remain in the Northern paradise. Not that Manchester City fans will be complaining about the possibility of a front three of David Silva, Carlos Tevez and Sergio Aguero, not to mention resident nut case Mario Balotelli, Santa Cruz, and the possible addition of Samir Narsi waiting in the wings. Tevez has never given anything less than 100% whilst at any of his English clubs and despite being frustrated off the pitch and their strained relationship Mancini will no doubt be pleased to have the selection headache should Tevez remain.
For the present time it is a good job Manchester has two restaurants which cater to Tevez's needs, at least in this instance he will have a choice.